Het Nederlands damesrugby begon in Wageningen. Bij RC Wageningen werd het eerste damesteam opgericht! In 1975 werd tijdens het 1e lustrum van RC Wageningen de eerste officiële dameswedstrijd gespeeld, tussen de dames van Wageningen en Eindhoven. Wageningen won met 4-0. In de daaropvolgende jaren werden we enkele keren landskampioen. Helaas liepen de spelersaantallen in de jaren 2007-2015 terug, maar we konden gelukkig blijven rugbyen door te clusteren met diverse andere clubs. Inmiddels staat er weer een volledig team dat het verleden met trots in het achterhoofd houdt en iedere wedstrijd voor de overwinning gaat.
Momenteel komen we uit in de 2e klasse. We zijn een gemixt team: studenten en niet-studenten, Nederlands of juist internationaal, iedereen is welkom! We staan bekend om onze open houding en sportiviteit en doen altijd enthousiast mee aan de derde helft na de wedstrijd.
We trainen iedere dinsdag en donderdag en vaak drinken we na de training nog een drankje in het clubhuis. Bij deze trainingen komt alles aan bod: een stukje conditie en kracht maar ook rugbytechniek (denk aan tackles, scrums, passtechnieken en passeerbewegingen). Onze wedstrijden zijn op zondag. Na de wedstrijden vieren we altijd een derde helft met de tegenstander, waarbij we een 'Woman of the match' van beide teams aanwijzen en liederen zingen, waaronder het Clublied. Daarnaast hebben we ieder jaar een teamweekend, kerstdiner en gaat de hele club op trip naar het buitenland om ook de rugbysfeer in andere landen te proeven. Spreekt dit je aan? Kom vooral langs om een keer mee te trainen en hopelijk zien we jou snel op het veld!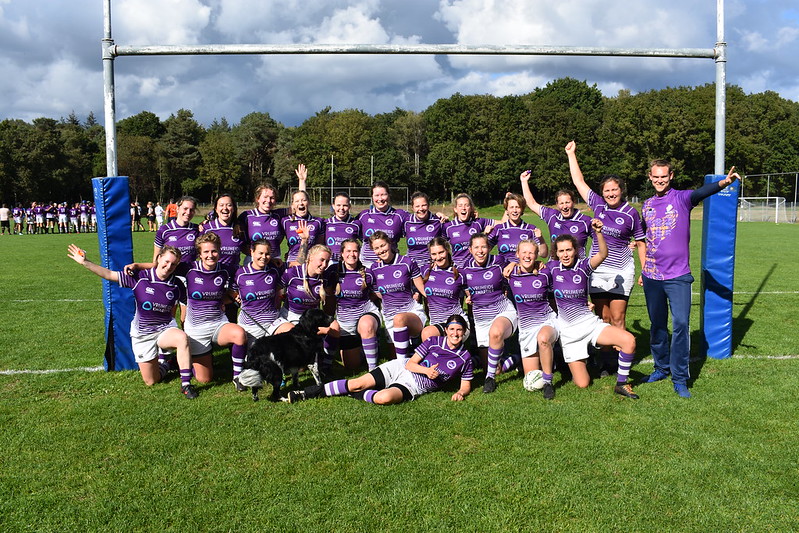 RC Wageningen was the first club in the Netherlands to have a women's team! In 1975, during the 1st lustrum of the club, the first official womens game in the Netherlands was played between the ladies of Wageningen and Eindhoven. Wageningen won with 4-0. The years after we became national champions several times. However, in the years 2007 – 2015 the number of players decreased and we were not able to bring a full team to the pitch. Luckily we could join forces with several other clubs to still play rugby. Nowadays we are back on the field with a full Wageningen Women's team. We are proud of the heritage of being the first women's team and with this in mind we want to win every game we play.
Currently we are playing in the 2nd division. Our team is mixed: students, non-students, Dutch or international, everyone is welcome! We are known for our welcoming attitude, sportsmanship and enthusiastic participation in the 3rd half.
Trainings are every Tuesday and Thursday and after training we like to have a drink in our clubhouse. During trainings we practice everything that's rugby related: fitness, power, rugby techniques (tackling, scrumming, passing etc.). Games are on Sundays. After the game we always celebrate the third half with our opponent where both teams choose a 'woman of the match' and where we sing songs, amongst which our club song. Next to this we go on a teamweekend every year, have a Christmas party and go on an international tour with the whole club to enjoy some rugby in other countries. Do you think this is something for you? Contact us to come train with us and we'll see you on the field!