Sponsor zijn van RCW betekent actief bijdragen aan de langetermijnvisie van onze club. Door ons te sponsoren, schept u/uw bedrijf de voorwaarden voor onze leden om gedurende het hele seizoen te trainen en competitiewedstrijden te spelen. Dit geldt zowel voor onze senioren heren- en damesteams (bestaande uit jongvolwassenen waarvan velen nog studeren) als voor onze jeugdteams (met leeftijden van 4 tot 17 jaar). Hier kan iedereen fysiek uitgedaagd worden, contact maken met leeftijdsgenoten en de interessante sport Rugby leren kennen.
Heeft u interesse om meer betrokken te zijn bij rugby in en rond Wageningen, dan kunt u onze club steunen door middel van sponsoring. In ruil daarvoor krijgt uw organisatie bekendheid in het hele land, onder rugbysporters plus hun families en andere rugbysupporters.
U kunt onze club op verschillende manieren sponsoren, in lijn met uw voorkeuren en mate van betrokkenheid. Afhankelijk van het beoogde team en de vorm van sponsoring die u beoogt, zijn er verschillende pakketten beschikbaar om uit te kiezen:
RCW gaat heel graag een samenwerking met u aan. Wilt u sponsor worden, neem dan gerust contact met ons op. Wij verkennen graag de mogelijkheden samen met u! We zijn te bereiken via penningmeester@rcwageningen.nl.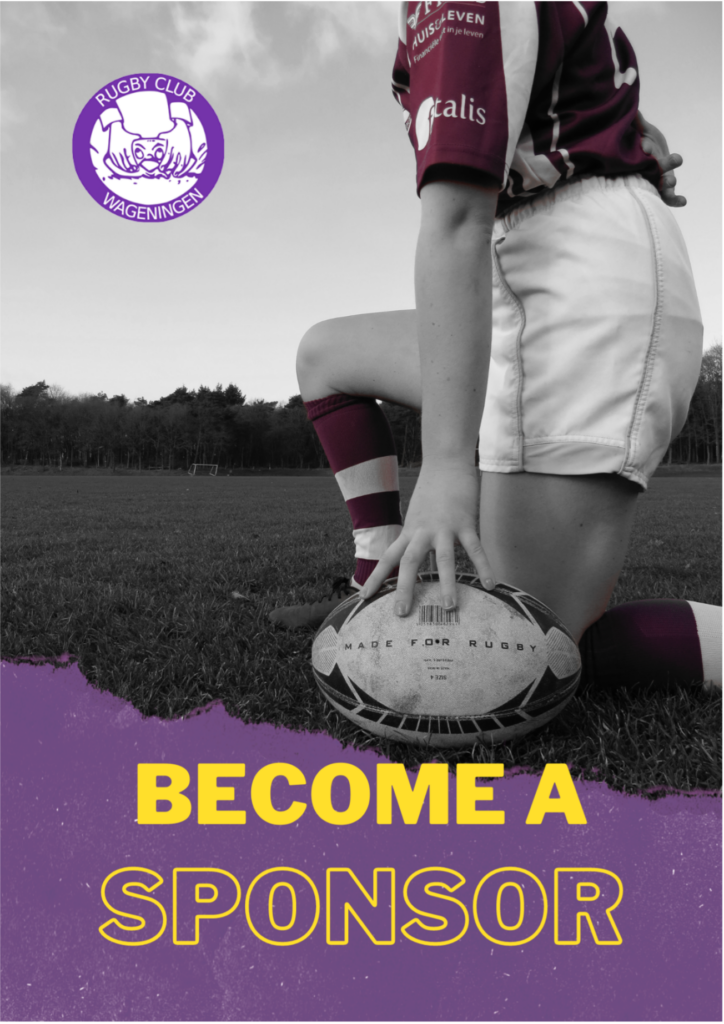 Becoming a sponsor
Being a sponsor for RCW is taking an active part in our club's long-term path. By sponsoring us, you are/your company is providing our athletes the conditions to train and play competition games throughout the season. This includes our senior men and women teams, mainly composed by young adults, of which many are still students; and youth teams, with ranging ages of 4 to 17 years old. Here, everyone can get physically challenged, connect with their peers and learn the interesting sport of Rugby.
If you have/your company has interest in seeing more of rugby in and around Wageningen, then you can support our club through a sponsorship. In return, your company will gain exposure across the entire country, among rugby athletes plus their families and other rugby supporters.
You/your company can sponsor our teams in varied ways, according to your preferences and commitment level. Different packages are available to choose from, depending on the target team/age and exposure gain (see above).
RCW would be happy to start a partnership at any level! If you/your company would like to become a sponsor, don't hesitate to contact us. We would very much like to get in touch and freely discuss options! You can reach us at penningmeester@rcwageningen.nl