Van 10-12 juni heeft Rugby Club Wageningen zich weer laten zien op het Ameland Beachrugby Festival. Na 2 jaar covid-uitstel, speelden maar liefst 5 teams – 3 heren, 2 dames – onder de naam Wageningen Gold op het strand van Nes. Op vrijdagmiddag vertrokken ruim 50 heren en dames in de bus naar Holwerd en vervolgens de boot naar Ameland. Daar stortten de paarse rugbyers zich in het strijdgewoel in de feesttent op het strand. Dat dat niet geheel zonder gevaar is, bewees damestrainer Peter Dorresteijn, die zijn enkel blesseerde in de moshpit. Verder wist Flavio 6 keer te verdwalen op de 3 km tussen de boot, Nes en Buren en heeft Kaat een greppel van dichtbij bekeken, maar mede dankzij de niet aflatende goede zorgen van Bernie, kwam iedereen uiteindelijk veilig thuis. 
Op zaterdag werd er uiteraard gerugbyd. Om 10 uur stonden alle teams op het veld en werd er traditioneel fanatiek gespeeld. En met resultaat: alle teams wisten een aantal wedstrijden te winnen en het eerste herenteam won er zoveel dat ze de volgende dag zelfs ingedeeld werden in de cup. Heren 2 haalde de poule voor de plate, de beide damesteams werden ingedeeld in de bowl en heren 3 hield het voor gezien op zondag.
Maar op zondag kun je natuurlijk alleen spelen als je op zaterdagavond genoeg gefeest hebt. Na een smakelijke BBQ en wat inleidende drankjes en liedjes, togen de meeste Wageningers wederom naar de feesttent, waar stevig werd doorgefeest totdat de tent dicht ging. Wederom kwam iedereen netjes thuis in de kampeerboerderij, al was een enkeling pas de volgende ochtend weer terug.
Het rugbyen op zondag ging traditioneel wat moeizaam, maar vanzelfsprekend waren alle Wageningen teams op tijd op het veld. Dames 1 won alle wedstrijden en bereikte de halve finale, waarin nipt verloren werd. Daarna was het voor alle teams tijd voor een laatste biertje of frisje, finales kijken en de boot- en busreis terug naar huis. Op de valreep kreeg Marjolein haar fiets nog terug en vond Arjanne haar pasjes weer en zo toog het paarse gevaar terug naar huis.
Behalve de nodige spierpijn en andere pijntjes, wat verbrande huid en verdwenen stemmen, werden geen grote blessures gemeld. En nadat de huisarts op Ameland Philips geïnfecteerde wond had schoongemaakt, knapte ook hij weer op. Die enkel van Peter zal nog wel even nodig hebben, maar met de nodige rust zal ook dat wel weer goedkomen. De commissie – Manon, Patat, A3, Peter, Marjolein – kan tevreden terugkijken.
Kortom: het was weer een geslaagd weekend met zand, rugby en feest. Wil je weten wat er nog meer gebeurd is? Daar had je bij moeten zijn! Volgend jaar weer!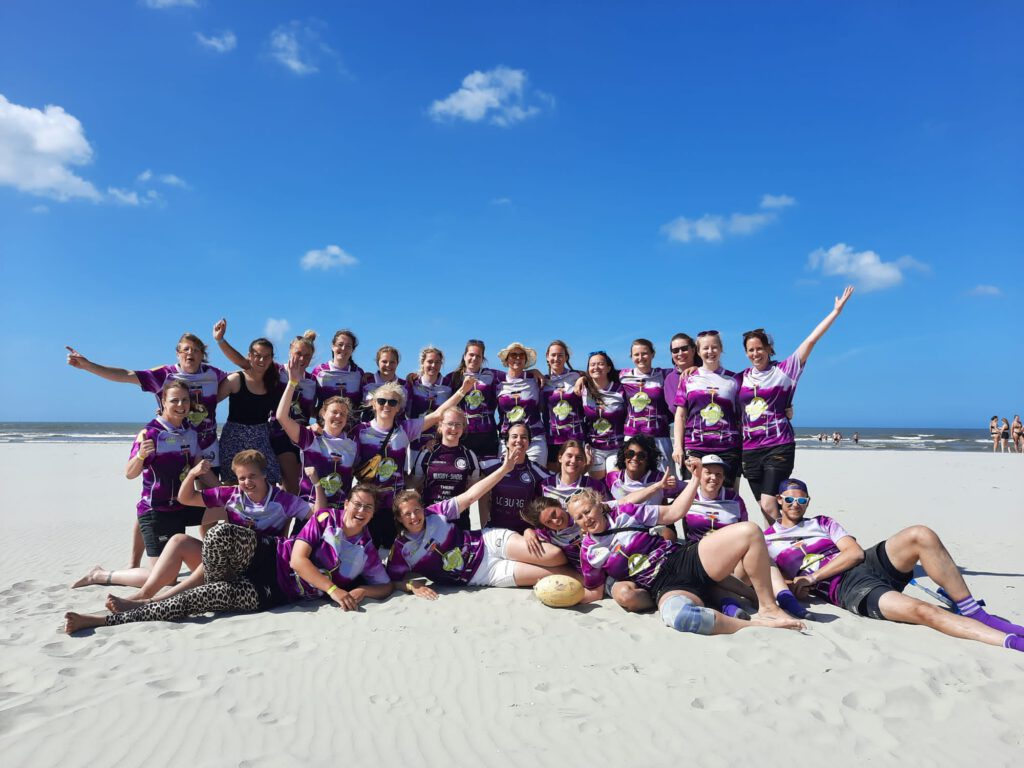 From June 10-12, Rugby Club Wageningen visited the Ameland Beachrugby Festival again. After 2 years of covid delay, no less than 5 teams – 3 men, 2 women – played under the name Wageningen Gold on the beach of Nes. On Friday afternoon, more than 50 men and women left in the bus to Holwerd and then took the boat to Ameland. There, the purple rugby players threw themselves into the fray in the marquee on the beach. That this is not entirely without danger, proved women's trainer Peter Dorresteijn, who injured his ankle in the mosh pit. Furthermore, Flavio managed to get lost 6 times on the 3 km between the boat, Nes and Buren and Kaat took a close look at a ditch, but thanks to Bernie's unwavering good care, everyone eventually came home safely.
On Saturday, of course, there was rugby. At 10 o'clock all teams were on the field and traditionally fanatically played. And with result: all teams managed to win a number of matches and the first men's team won so many that they were even classified in the cup the next day. Men 2 made it to the group for the plate, both women's teams were placed in the bowl and Men 3 called it quits on Sunday.
But of course you can only play on Sunday if you've partied enough on Saturday night. After a tasty BBQ and some introductory drinks and songs, most of the Wageningers went back to the party tent, where the party continued until the tent closed. Once again everyone returned home to the camping farm, although a few did not return until the next morning.
Rugby on Sunday was traditionally a bit difficult, but of course all Wageningen teams were on the field on time. Ladies 1 won all matches and reached the semi-finals, where they narrowly lost. Then it was time for all teams for a last beer or soft drink, watching the finals and the boat and bus journey back home. At the last minute Marjolein got her bike back and Arjanne found her bank cards again and so the purple danger went back home.
Except for the necessary muscle aches and pains, some burnt skin and lost voices, no major injuries were reported. And after the doctor on Ameland had cleaned Philips' infected wound, he also recovered. Peter's ankle will still need some time, but with the necessary rest, that will also be fine. The committee – Manon, Patat, A3, Peter, Marjolein – can look back with satisfaction.
In short: it was another successful weekend with sand, rugby and party. Want to know what else happened? You should have been there! Next year again!