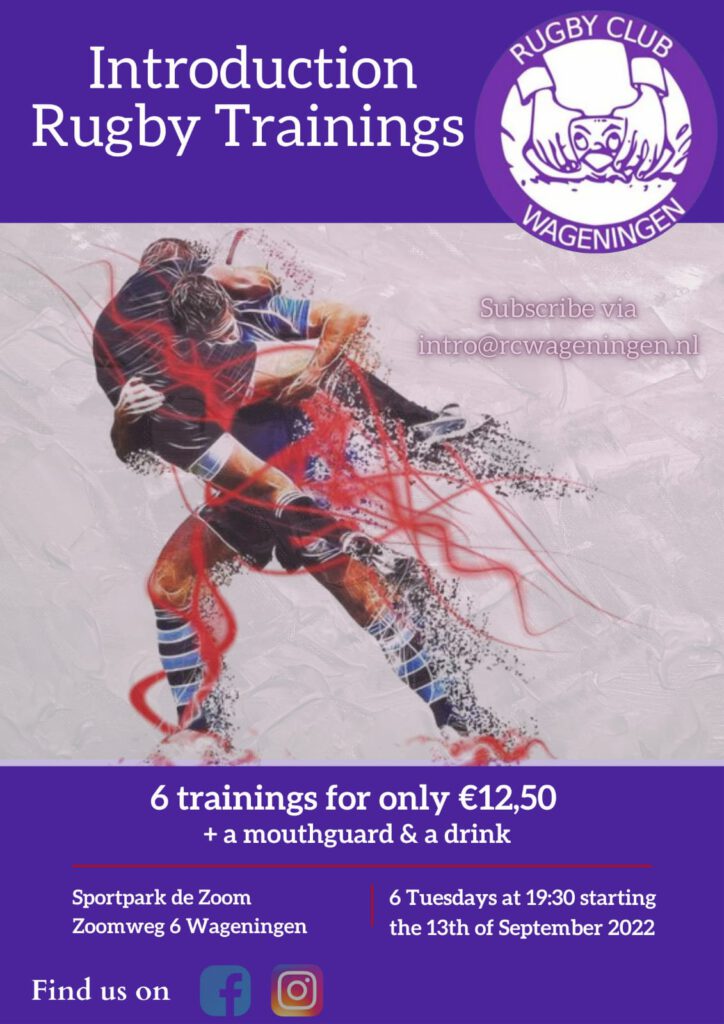 Interested in a new and exciting game? One that combines skill, force, teamwork and many other aspects into one sport? Here is your answer: Rugby!
Every year RCW organizes an introduction course in spring and one just after the summer to teach you all the basics in a couple of trainings. This summer the intro training sessions will take place on six Tuesdays in a row, starting the 13th of September.
Do you want a new hobby for the new year? Do you want to try a teamsport? Do you want to test your limits and explore the most fun sport there is? Join our beautiful purple-white Rugby club for the intro trainings! You will get an explanation of the rules and learn the basic skills such as passing and tackling.
These training sessions will be on Tuesdays from 19.30 at the Sportpark de Zoom (Zoomweg 6, Wageningen). Needed are shoes with studs, clothes that are allowed to become muddy, and a mouthguard. When you join the introduction trainings, you will get your mouthguard from us!
For €12,50 you will get six training sessions with a focus on getting to know the game, but also the team. Therefore, you get from us a mouthguard, but also a free beer (or other drink) so you can socialize with other players at the clubhouse after a training.
Interested to join? More questions? Email the introcie at intro@rcwageningen.nl.