Op zaterdag 4 februari speelden de Cubs, Junioren en Colts wedstrijden. Na afloop werd er samen naar een paar mooie Six Nations wedstrijden gekeken in De Stal.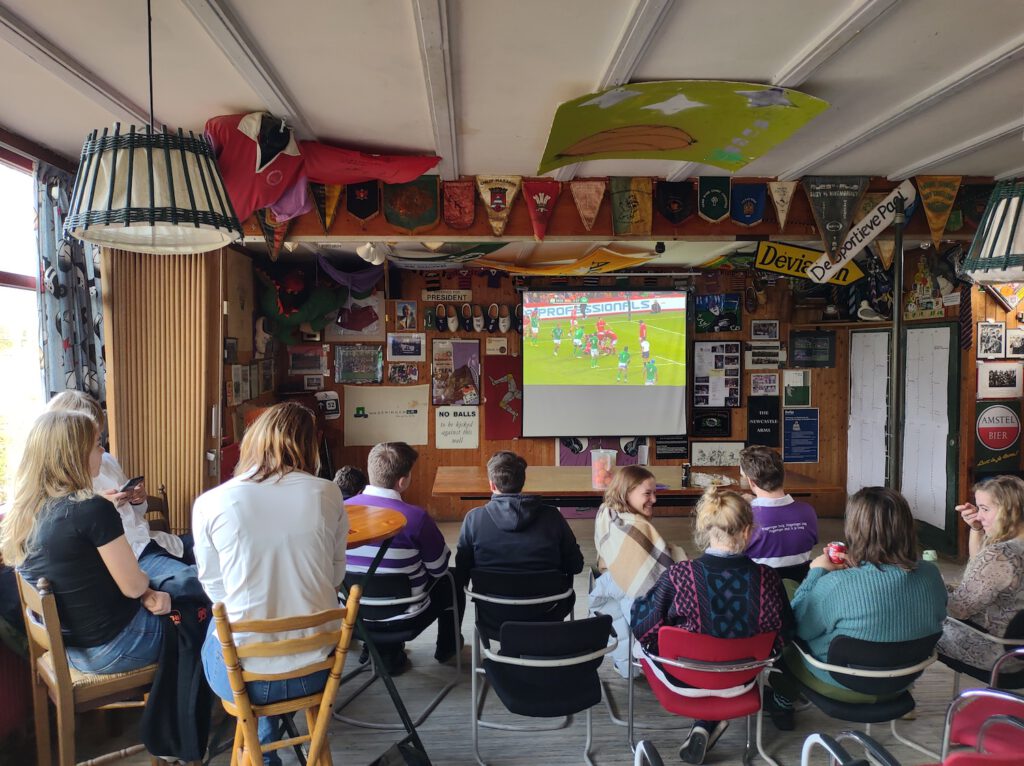 On Saturday, February 4, the Cubs, Juniors and Colts played games. Afterwards, a few nice Six Nations matches were watched together in De Stal.
Cubs – de Cubs kwamen op eigen veld in actie tegen CLFryslan CU 1.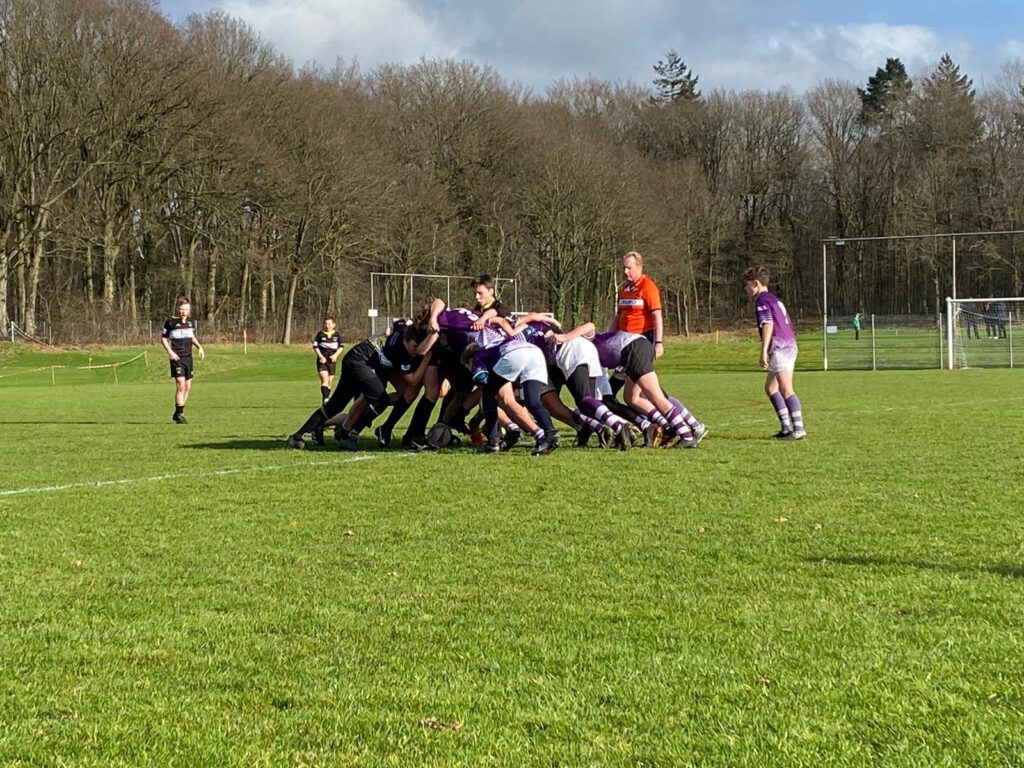 The Cubs played CL Fryslan CU 1 on the Wageningen field.
Junioren – de WiWa's waren uitgenodigd in Utrecht voor een wedstrijd tegen URC JU 2, met zelfs een derde helft in het verschiet. Het zonnetje scheen, bijna alle Wild Rovers waren er maar waar waren de Wageningers? Gelukkig kwamen die, iets verlaat doordat iemand zijn eigen naam niet had herkend op het rooster om te rijden, maar nog wel op tijd om lekker op te warmen. Met 11 man en 2 vrouw sterk (ja, dat zijn er 13 en geen 15) aan de warming up begonnen. Jeremy had een onderonsje gehad met de hoofdcoach van de URC Junioren en wij kregen 2 URC-Junioren van hun. De wedstrijd even samenvattend:
twee aan elkaar gewaagde teams met 2 URC-Junioren die net deden of ze in het paars geboren waren
tries om en om, met sommige conversies wel raak en sommige helaas niet
tries gescoord door spelers uit bijzondere hoeken door Jairo, Jonah als tweede rijer, Jessie onze Prop, wing en nr 8 in 1 en ook fly half Wild Rover Thijs en Nicholas die door URC als man off the match werd gekozen
moeders met hartkloppingen aan de zijlijn staand aangezien 5 minuten voor tijd URC nog een try drukte waardoor er nog maar 1 try verschil was
We hebben de wedstrijd met 31-36 gewonnen, terwijl de moed voor de wedstrijd eigenlijk al in de schoenen gezakt was. De derde helft werd afgesloten met een worstenbroodje met Fristi en Nicholas mocht als man off the match samen met zijn maatje van URC een Adje Fristi drinken. URC bedankt voor de gastvrijheid en sportiviteit!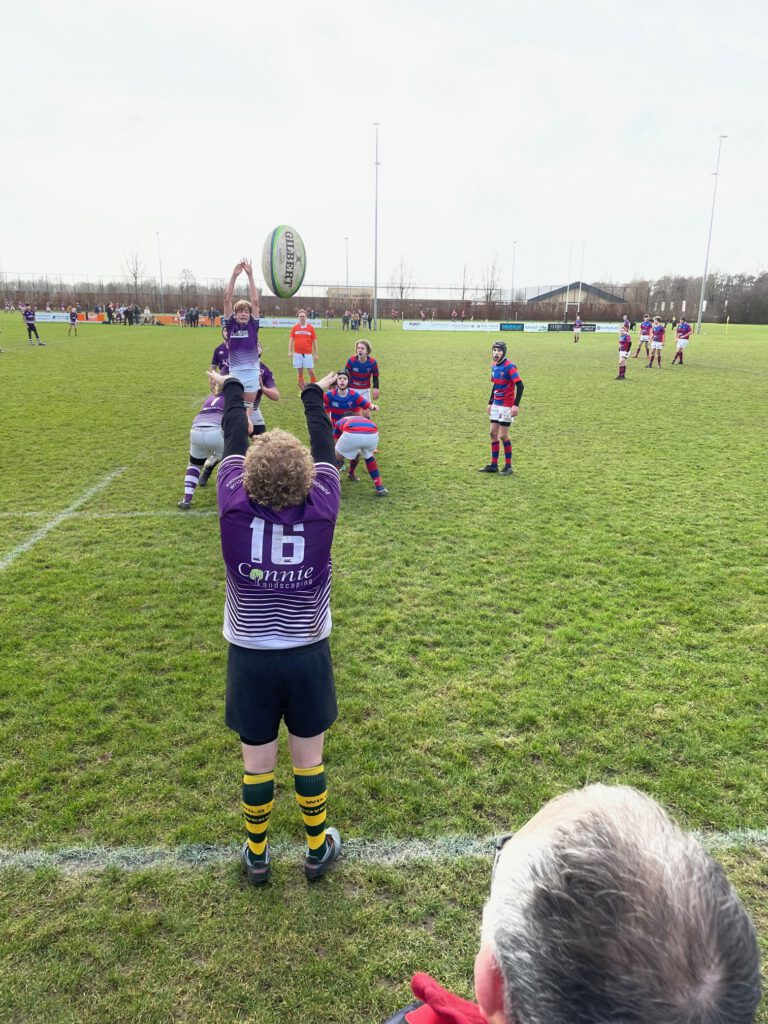 The WiWa's were invited to Utrecht for a match against URC JU 2, with even a third half ahead. The sun was shining, almost all Wild Rovers were there, but where were the Wageningers? Fortunately they arrived, a little late because someone had not recognized their own name on the roster to drive, but still in time to warm up nicely. With 11 men and 2 women strong (yes, 13 instead of 15) started the warming up. Jeremy had a chat with the head coach of the URC Juniors and we got 2 URC Juniors on loan. To summarize the match:
two evenly matched teams with 2 URC-Juniors who pretended to be born in purple
tries on both sides, with some conversions successful and some unfortunately not
tries scored by players from special angles by Jairo, Jonah as second row, Jessie our Prop, wing and nr 8 in 1 and also fly half Wild Rover Thijs and Nicholas who was chosen by URC as man off the match
mothers with palpitations standing on the sidelines as 5 minutes before the end URC pressed another try so there was only 1 try difference
We won the game 31-36, while the courage for the game had actually already fallen. The third half ended with a sausage roll with Fristi and Nicholas was allowed to drink an Adje Fristi as a man off the match together with his buddy from URC. URC thanks for the hospitality and sportsmanship!
Colts – het was eindelijk zover voor de Colts, de eerste thuiswedstrijd dit seizoen in Wageningen. Een flitsend begin, helaas was het vervolg van de eerste helft voor de tegenstander die te makkelijk enkele tries maakte. De tweede helft werd uit een ander vaatje getapt, veel tackles en mooie aanvallen die beloond werden met 5 tries. Niet genoeg om de winst te pakken maar wel een mooie pot om te spelen en om naar te kijken!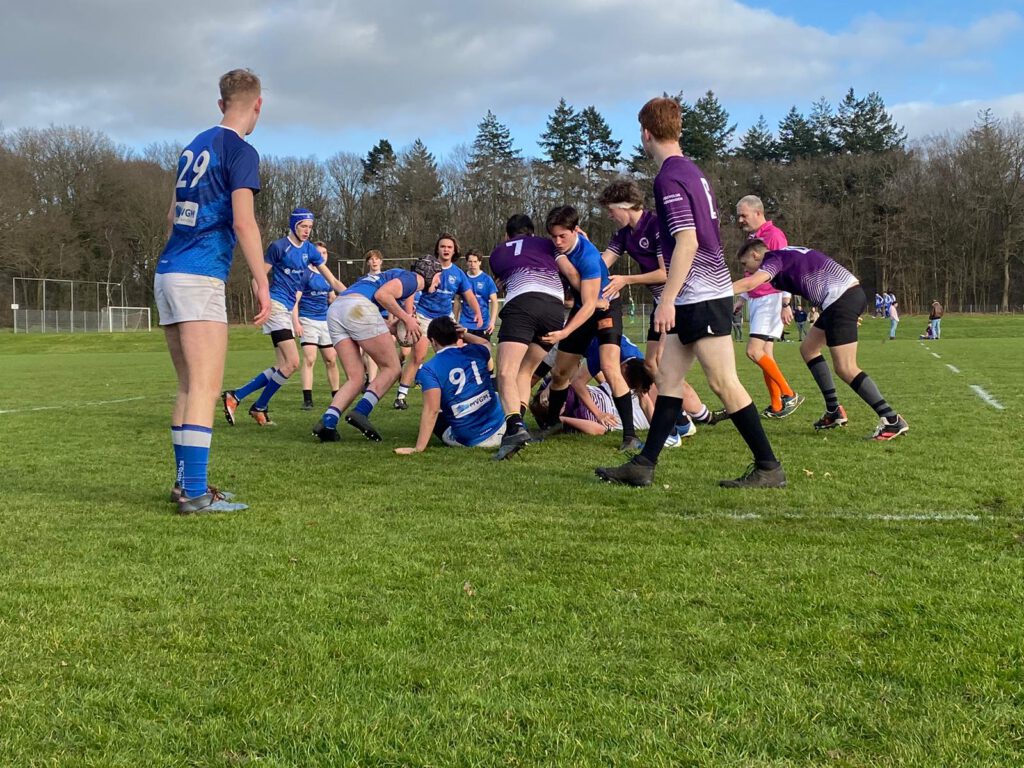 It was finally time for the Colts, their first home game this season in Wageningen. A flashy start, unfortunately the continuation of the first half was for the opponent who made a few tries too easily. The second half was of a different order, with many tackles and beautiful attacks that were rewarded with 5 tries. Not enough to take the win, but a nice game to play and watch!