Op 2 oktober zijn we afgereisd naar Amstelveen om tegen Groot Mokum te spelen. Door een aantal van onze spelers aan hun team te lenen, konden we een volledige 15s game spelen, wat resulteerde in een overwinning van 5 – 56! Daarna genoten we van een geweldige 3e helft met fantastisch eten. Met veel dank aan @kevinscottnl voor het maken van geweldige foto's.
Op 9 oktober zijn de dames van LSRG afgereisd naar Wageningen. Nadat we ze een paar seizoenen geleden hadden ontmoet, wisten we dat dit een zware wedstrijd zou worden. We waren vastbesloten om alles te geven. Ze daagden ons echt uit met hun snelle teamspel en helaas konden we geen pogingen scoren. Er werd echter veel geleerd en we hebben toch lekker gespeeld op deze zonnige superzondag.
Om te blijven leren, hebben we een oefenwedstrijd gepland tegen VSRC in Utrecht, waar onze nieuwe spelers hun eerste wedstrijdminuten maakten. Er was zoveel paars op het veld dat we de bal soms bijna naar het verkeerde team speelden, maar door wat sterk voorwaarts werk en snelle line-plays hielden we balbezit en scoorden we een aantal mooie try's. De score werd verloren tijdens de 3e helft, maar het is veilig om te zeggen dat Wageningen met de overwinning naar huis ging.
Onze volgende thuiswedstrijd is op 20 november, kom ons aanmoedigen!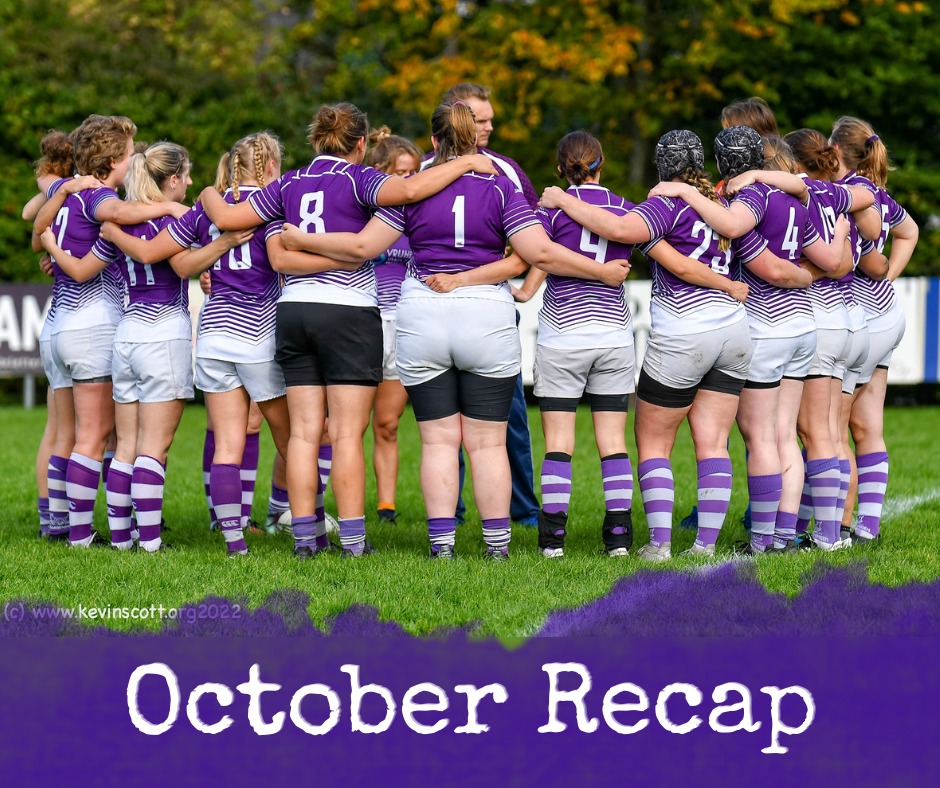 On the 2nd of October, we travelled to Amstelveen to play against the Groot Mokum team. By lending some of our players to their team we were able to play a full 15s game, resulting in a 5 – 56 win! Afterwards, we enjoyed a great 3rd half with some amazing food. Also a big thank you to @kevinscottnl for taking awesome pictures.
On the 9th of October, the ladies of LSRG travelled to Wageningen. Having met them a few seasons ago, we knew this would be a tough match. We were determined to give it our all. They really challenged us with their fast team play and unfortunately we were not able to score any tries. However, lots was learned and we still had a good time playing on this sunny super Sunday.
To keep learning, we scheduled a practice game against VSRC in Utrecht, where our new players made their first game minutes. There was so much purple on the field that we sometimes almost passed to the wrong team, but through some strong forward work and fast line plays, we kept possession of the ball and scored some beautiful tries. The score was lost during the 3rd half but it's safe to say Wageningen took home the win.
Our next home game is at the 20th of November, please come and cheer us on!