In het weekend van 27 mei speelden de dames op Flanders Open Rugby in Dendermonde. Voor de gelegenheid hadden we een combi team samen met de dames van LSRG. Helaas hadden we wat uitvallers na de pre-party dus zochten we nog wat extra spelers. Tijdens het feesten hadden we een aantal Franse dames ontmoet en ondanks de taalbarrières konden wel elkaars hulp goed gebruiken. De eerste dag hadden we een lastige poule, maar de 2e dag was het beter en wonnen we twee wedstrijden. Ook speelden we nog mee met de Franse dames in de elite poule wat ook super leuk was! Voor ons was Zoe speelster van het toernooi, fantastisch dominante tackles en sterkte looplijnen. Het was een superleuk toernooi en we hebben een boel nieuwe rugby vrienden gemaakt!
In het weekend van 3 juni gingen beide senioren teams naar het noorden voor het Groningen 10s toernooi. Uiteraard waren we er al vrijdagavond voor de pre-party en nadat we hadden gedanst vonden we een plekje op de camping naast het veld. Op zaterdag ochtend stonden we fris en fruitig op om lekker te gaan rugby-en! De mannen hadden een lastige poule met ook de latere winnaars van het toernooi, maar desondanks hebben ze een aantal mooie tries gescoord en echte Wageningse spirit laten zien. De dames wonnen 3 van de 4 poule wedstrijden waardoor ze de finale mochten spelen! Met een heleboel supporters op het hoofdveld hebben we nog een keer alles laten zien en overtuigend gewonnen!! De trofee is mee terug gegaan naar Wageningen. Na de finales was het tijd voor het circus feest, dus party-outfits aan en gefeest tot in de late uurtjes!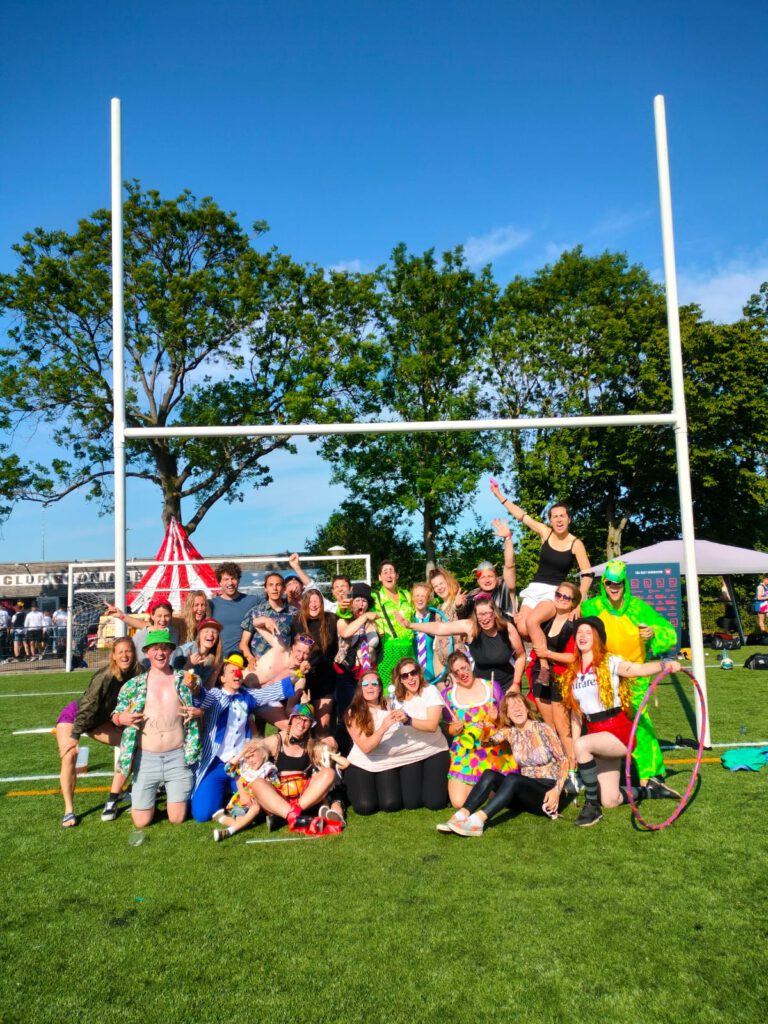 In the weekend of May 27, we played at Flanders Open Rugby in Dendermonde. We subscribed a team together with our friends from LSRG. However, some of us got injured during the pre-party so we needed some help. During the party we met some French girls and even though there was a little language barrier (we didn't speak French, they didn't speak English) but in the end we all spoke the language of rugby so we helped each other out. The first day we had a tough poule, but the 2nd day it was a little easier on us. In return for the help from the frenchies we helped them in their games in the elite poule which was fun as well. For us Zoe was player of the tournament, she made incredible strong dominant tackles and super runs! All in all a great tournament with a lot of new rugby friends made.
Then in the weekend of June 3 we visited Groningen with a mens and a womens team. Of course Wageningen was already present on Friday night for the pre-party. After some dancing we found a nice spot to camp next to the rugby field. On Saturday morning we emerged fresh from the campsite to play some rugby. The men had a tough pool, with the later winners of the tournament, but managed to score some beautiful tries and showed the Wageningen spirit.
The women won 3 of their 4 pool games, which meant we were playing the final! With a lot of supporters on the main pitch we rallied one last time and managed a convincing win! Everyone can admire the trophy in the clubhouse. After the games we got into our circus party outfits, enjoyed a delicious barbecue and partied until the late hours. See you next year Groningen!