Op zondag 27 augustus 2023 was het weer tijd voor een Wageningse traditie, het pre-season Fialar toernooi voor senioren. De ochtend begon nog met een klein beetje zonneschijn, maar terwijl het fluitsignaal van de eerste wedstrijden klonk begon het al langzaam in de verte te rommelen. De heren trapten af tegen de mannen van Obelix uit Nijmegen. Drie spelers die zijn doorgekomen uit de Wageningse jeugd speelden ook mee – Robbert-Jan, Thor en Rein. Het was een harde maar faire pot en Obelix, dat een klasse hoger speelt, ging er met de winst vandoor.
Op veld 2 mochten de dames ondertussen aantreden, terwijl de eerste regenspetters begonnen te vallen. De dames met hun groeiende aantallen hadden zelfs twee teams klaar staan! Ook hier hoofdrollen voor jeugd spelers die doorstromen naar de dames, Mare, Lente en Sara deden voor het eerst mee. De Duitse Rugby Ruckoons waren echter een maatje te groot en niemand kon de snelle lijnspeler van de Duitse nationale selectie bijbenen, helaas verlies. Gelukkig is er voor de dames volgende week herkansing, dan gaan ze op teamweekend en spelen ze op de Landelijke Opwarmdag in Den Haag.
De mannen speelden ondertussen nog een pot tegen Gouda in de stromende regen, en helaas leken de Wageningse heren daar iets meer last van te hebben dan de tegenstander: een nipt verlies. Inmiddels was het toernooi voor de dames tijdelijk stilgelegd omdat er nu een fikse onweers- en regenbui over de Zoom trok. Maar naarmate de tijd vorderde leek het er niet beter op te worden, met nog een hele reeks aan onweersbuien in aantocht. Helaas, voor de rest van de dag een dikke streep door het toernooi!
Men kon natuurlijk nog wel naar ons gezellige clubhuis, waar een lekkere lunch klaar stond voor alle spelers! Iets eerder dan gedacht werd het dus tijd voor de derde helft en uiteraard werd er gezongen, werden er bierestafettes gespeeld tegen de gasten en uiteindelijk gezamenlijk de opwarm wedstrijd voor het WK, Frankrijk – Australië, gekeken. Hulde aan alle vrijwilligers die zich in weer een wind hebben ingezet op zaterdag met opbouwen en zondag op en rondom het veld, en in het clubhuis! Volgend jaar in de herkansing, dan met beter rugby weer!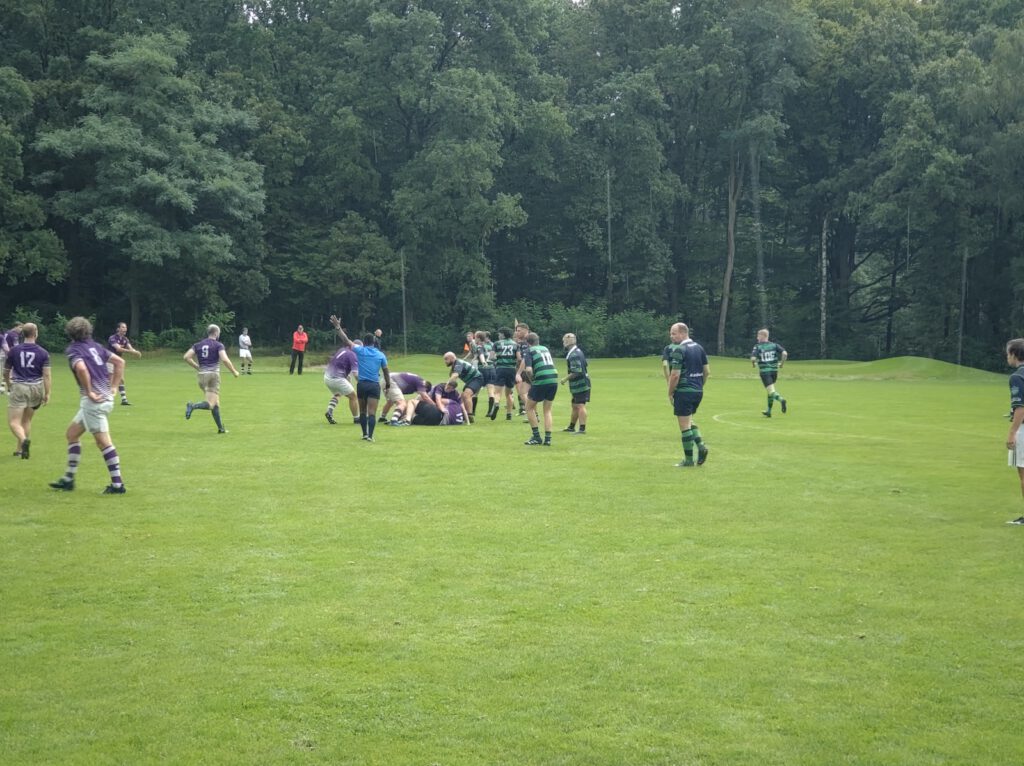 On Sunday 27 August 2023 it was time again for a Wageningen tradition, the pre-season Fialar tournament for seniors. The morning started with a little bit of sunshine, but as the whistle of the first games sounded, it slowly started to rumble in the distance. The men kicked off against the men of Obelix from Nijmegen. Three players who came through from the Wageningen youth also played – Robbert-Jan, Thor and Rein. It was a tough but fair game and Obelix, which plays a class higher, took the win.
In the meantime, the ladies started on field 2, while the first raindrops started to fall. The ladies with their growing numbers even had two teams ready! Here too, leading roles for youth players who move on to the ladies: Mare, Spring and Sara participated for the first time. However, the German Rugby Ruckoons were a size too large and no one could keep up with the fast line player of the German national selection, leading to an unfortunate loss. Fortunately, there will be a second chance for the ladies next week, when they will go on a team weekend and play on the National Warm-up Day in The Hague.
In the meantime, the men played another game against Gouda in the pouring rain, and unfortunately the Wageningen gentlemen seemed to be a little more affected than the opponent: a narrow loss. In the meantime, the tournament for the ladies had been temporarily halted because a heavy thunderstorm and rain shower now passed over the Zoom. But as time went on, things didn't seem to get any better, with a slew of thunderstorms to come. Unfortunately, the end of the tournament for the rest of the day!
But of course we could still go to our cozy clubhouse, where a nice lunch was ready for all players! So a little earlier than expected it was time for the third half and of course there was singing, beer relays were played against the guests and finally a warm-up match for the World Cup, France – Australia, was watched together. Kudos to all volunteers who worked hard on Saturday with construction and Sunday on and around the field, and in the clubhouse! Let's try again next year, with better rugby weather!